2015 Cimarron Vineyard Picpoul Blanc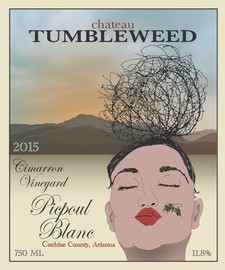 Wine Specs
Vineyard Designation
Cimarron Vineyard
Harvest Date
August 26, 2015
Aging
Aged entirely in stainless steel.
Fermentation
Fermented in stainless steel at 55 F for 19 days. Fermentation arrested at ½% residual sugar. Malolactic fermentation inhibited.
Bottling Date
March 16, 2016
Wine Profile
Vineyard Notes
Cimarron Vineyard, Cochise County, AZ. 4,200 ft. elevation
Production Notes
This wine saw only minimal cold-stabilization, did NOT undergo heat-stabilization and is filtered, but un-fined.
Winemaker Notes
Picpoul Blanc (which translates to "lip-stinger") is known for its bright, lemony character and razor sharp acidity. We picked this fruit fairly early (at only 20.5 Brix) and arrested the fermentation with about ½% residual sugar to balance the impact of the grapes' high acid. This remarkably light and refreshing wine is almost more reminiscent of a lemon-lime soda pop than our typical white wines. A perfect pairing with a hot AZ day!
Other Notes
Winemaker: Joe Bechard