2013 Rose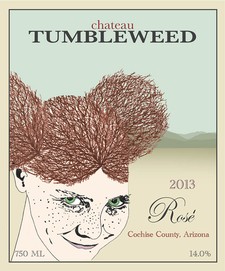 47% Barbera and 43% Sangiovese Cochise County Arizona from Fort Bowie Vineyards at 3,900 Ft. elevation. 10% Montepulciano from SW New Mexico at 4,300 Ft. elevation. Barbera and Sangiovese were whole-cluster pressed. Fermented in stainless steel for 20 days at 55 F. Malolactic fermentation inhibited. No heat-stabilization and is filtered, but unfined. 14.0% Alcohol, 80 cases produced.
Wine Specs
Vineyard Designation
Fort Bowie Vineyards and New Mexico Vineyard
Harvest Date
August 28, September 25 & 27, 2013
Wine Profile
Production Notes
Winemaker: Joe Bechard
Winemaker Notes
A dry, fruity rosé made by whole-cluster pressing red grapes with fruity character and by pulling "saigne" from red batches of those varietals. The Montepulciano portion was de-stemmed and allowed to sit an extra 24 hours on the skins before pressing, giving an even brighter, fruitier nose reminiscent of red Jolly Ranchers. Drink now.
Other Notes
Winemaker: Joe Bechard